Calculate Your Case Acceptance Rate NOW
Case Acceptance Booster Session
Want to close more cases and make more income right away? Use this Free tool to find out more about how you can improve your case acceptance immediately! We will help you fix the most common mistakes in case presentation and you will discover what you can do tomorrow to make more income! Register now for your FREE one on one strategy session by clicking below.
Schedule My Session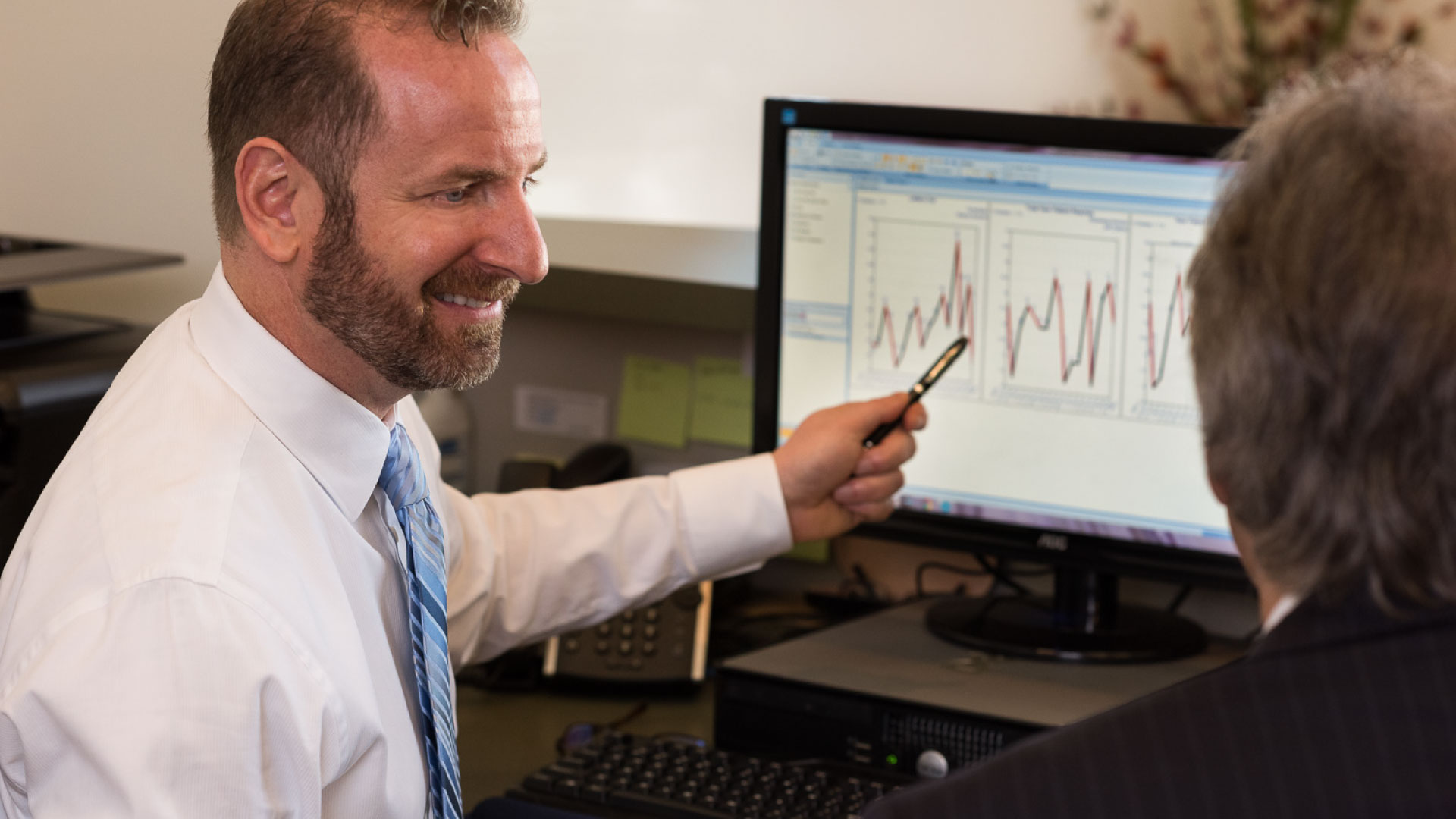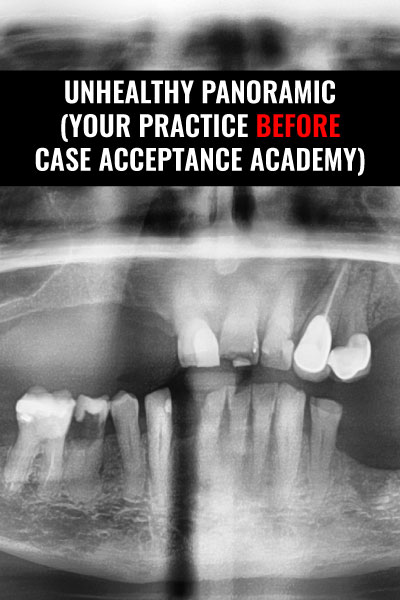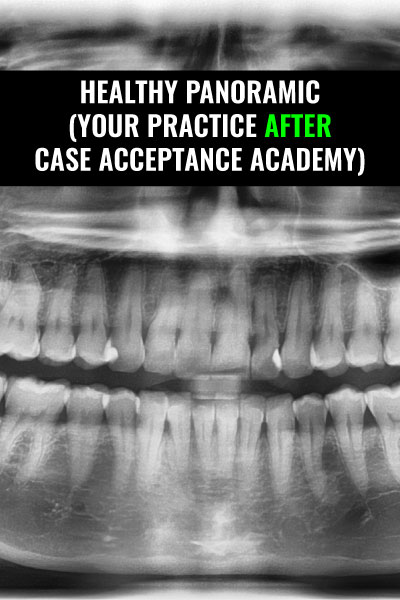 Dental Practice X-Ray
How Healthy is Your Practice? Did you ever see it objectively?
Fact: You cannot fix what you cannot diagnose.
Take the mystery out of achieving Success.Take the the only Dental Practice X-ray and see how health your practice is right now: What areas are doing well, What areas you need to improve, and Immediate Action Steps to improve performance immediately.
Access Now
Free Training You can Download Immediately To Improve Your Case Acceptance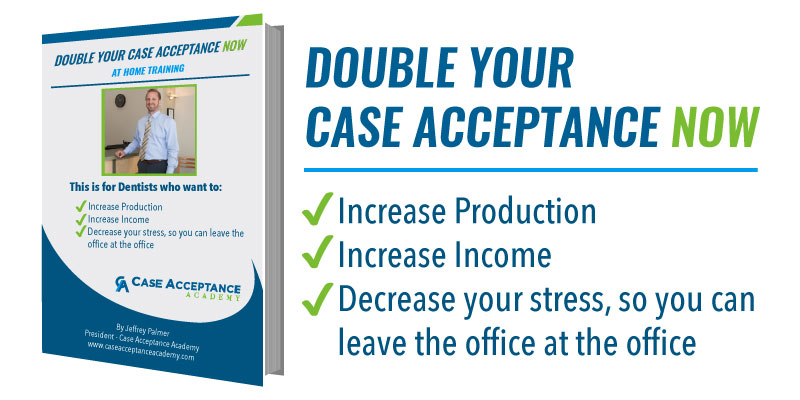 Double Your Case Acceptance Now
This at home training is designed for dentists who want to increase production, increase income, and decrease your stress so you can leave the office happy. Includes: Magical Three Steps to get Patients Own Their Dental Conditions and Take Action, Two Things you Can Do RIGHT NOW To Increase New Patients and Income, and The Number One Way To Beat Your Competition, No Matter Your Practice Situation.
GET THE REPORT!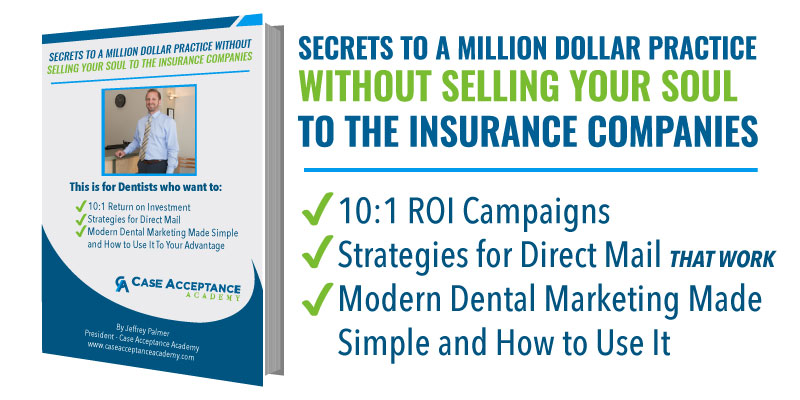 Secrets to A Million Dollar Practice Without Selling Your Soul to the Insurance Companies
In this download you can find: How To Implement A Marketing Campaign And Get A 10:1 ROI Or Greater, Successful Strategies For Direct Mail Your Competition Does Not Know, and Modern Dental Marketing Made Simple And How To Use It To Your Advantage
GET THE REPORT!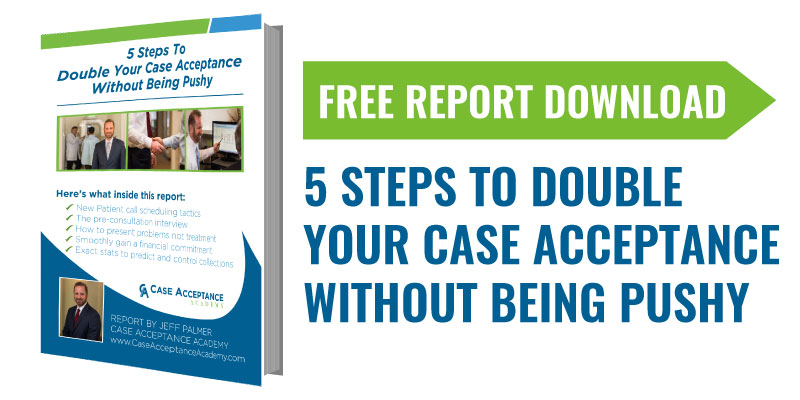 5 Steps to Double Your Case Acceptance Without Being Pushy
In this report, you will receive New Patient call scheduling tactics, the pre-consultation interview, how to present problems not treatment, smoothly gain a financial commitment, and exact stats to predict and control colections.
GET THE REPORT!